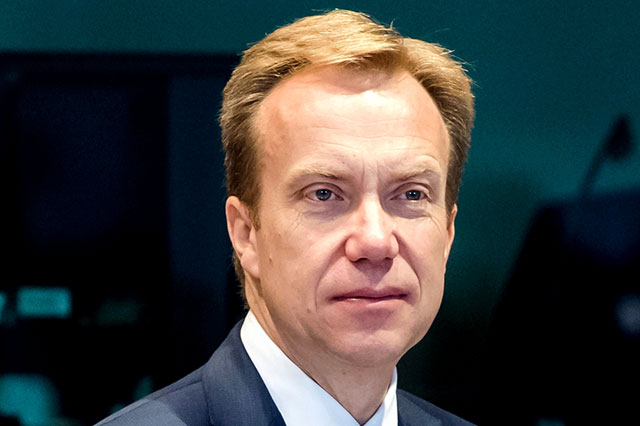 Norway's Foreign Minister Borge Brende. [Photo provided to China Daily]
Editor's note: China and Norway decided on Dec 19, 2016, to normalize relations after six years of freeze. Norway's Foreign Minister Borge Brende talked with China Daily's Mo Jingxi about his expectations for bilateral ties.
How does Norway evaluate the significance of the recent development in the China-Norway relationship?
We are pleased that we could announce the full normalization of our political and diplomatic relations with China during my visit to Beijing in December. The normalization of relations is the result of long-term diplomatic efforts to restore the trust between our two countries. My visit before Christmas proved to underline the positive message of cooperation and mutual respect and trust that is described in the joint statement. We hope to move our relationship forward toward cooperation and dialogue on a broad range of topics.
China is now the world's second-largest economy, and the two countries have just agreed to seek a free trade deal. What does Norway expect from future bilateral cooperation in trade and economy?
We have great hopes for increased trade and investment as a result of a free trade agreement. China and Norway have complementary economies, and I believe both countries will benefit greatly from enhanced economic cooperation. Norway has solid expertise and experience in sectors such as environmental technology, maritime, offshore oil and gas exploration and fish farming.
Chinese enterprises are now investing in various foreign countries. How about the investment environment for Chinese investors in Norway? Are investors offered any preferential policies?
Norway has an open economy that welcomes foreign direct investment. This includes investments from China, as has also been the case over the past years. As an advanced, knowledge-based economy, Norway is an attractive destination for Chinese investment.
Norway has become a founding member of the Asian Infrastructure Investment Bank. How can Norway make use of the AIIB and other China-initiated strategies such as the Silk Road Economic Belt and 21st Century Maritime Silk Road?
We are pleased with the development of the AIIB and the speed of the process. Deputy Minister Tone Skogen attended the bank's inaugural meeting of the Board of Governors in Beijing in January 2016. I was also very pleased to welcome the president of the AIIB, Jin Liqun, to Norway in September last year. Norway is already an active member of the AIIB, and we hope that the bank will prove to be an important vehicle for Norwegian investments in Asia.
Norway's sovereign wealth fund is currently the world's largest of its kind, and has already made substantial investments in China. From the Norwegian side, we are looking forward to continuing the cooperation with the AIIB and increasing our engagement in the other China-initiated strategies.
The two countries started cooperation in the Arctic in 2004.What is the latest progress of cooperation, for example, in joint gas and oil exploration at sea?
Norway has the ambition to be a knowledge hub for polar issues and research. We have a large portion of our population living above the Arctic Circle in a region that generates wealth for the entire country. We have had a longstanding and mutually beneficial cooperation with China on Arctic issues. China has established a research facility on the island of Svalbard. Research in the Arctic is pivotal to understanding climate change and how it affects our environment, and the changes are happening faster in the Arctic than anywhere else. Norway also welcomed China's participation as an observer in the Arctic Council in 2013.We look forward to exploring further avenues of cooperation with China in the Arctic.
Norway is a good tourist destination with natural beauty and clean air. Is your country considering some policies, such as a free visa policy that some countries have implemented, to attract more Chinese tourists?
We are very pleased with the rapid increase in Chinese tourists to Norway, and we look forward to welcoming more tourists from China in the years ahead. Norway has taken steps to facilitate swift processing of visas for Chinese nationals, and we are continuously looking at ways to further enhance our services in this regard.
How about the two countries' potential for cooperation in other areas, such as environmental protection, science and technology?
China and Norway already have extensive cooperation in environ-mental protection, science and technology, but this cooperation has the potential to be expanded and deepened. Some of the most promising areas for enhanced cooperation are green finance and clean energy. Norwegian educational and research institutions have also shown great interest in broadening the cooperation with their Chinese counterparts. The government's "Panorama"-strategy on research and higher education lists China as one of the six priority countries. There is great potential for expanding the contacts in many fields, ranging from climate research, the environment and environmental technology, energy, aquaculture, agriculture, polar research, and the humanities and social sciences.
How can Norway facilitate cooperation between China and other Nordic countries?
The Nordic countries were among the first to establish diplomatic relations with the People's Republic of China, and since then we have enjoyed longstanding and friendly relations. While each Nordic country values its own bilateral relationship with China, there are some areas where there may be room for further coordination.