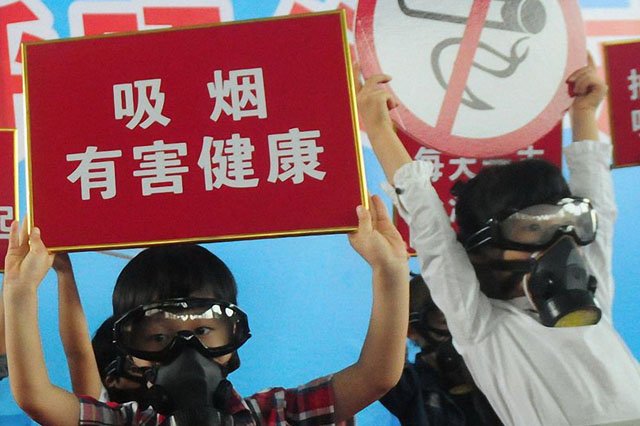 Children wearing gas masks hold anti-smoking signs to call on their parents to quit smoking at an event in Hangzhou on May 29, 2016. Lian Guoqing / for China Daily
It is estimated that about 10 percent of the entire population of China - the world's biggest tobacco consuming country, with more than 300 million smokers - now have legal protection against secondhand smoke due to tobacco control regulations, according to a new report.
The report, "A Civil Society Perspective on Tobacco Control in China 2016", was published on Tuesday by ThinkTank Research Center for Health Development, one of the country's most outspoken NGOs committed to tobacco control.
To date, only three Chinese cities - Beijing, Shanghai and Shenzhen - have introduced thorough smoking bans in public places, while some smaller cities have local laws on tobacco control.
"That's far from enough and a national tobacco control law is imperative to provide a legal basis for fighting, in particular, passive smoking," said Wu Yiqun, deputy director of ThinkTank.
Beijing introduced its tobacco control law in June 2015, which banned smoking in all public places such as workplaces, schools, hospitals and airports.
The report said that since the implementation of the law, the number of smokers in the capital has fallen by 200,000, citing figures from surveys by local health administrations.
Wang Benjin, an inspector at Beijing Health Inspection Institute, said tobacco control has been improved due to the law.
By the end of 2016, Wang and his colleagues had issued more than 3,000 tickets, totaling 2 million yuan ($288,800), to organizations and individuals for violations.
WHO China Representative Bernhard Schwartlander praised Beijing for its tobacco control law, but added that "the fight (against smoking) is far from over".
Implementing a national law is a top priority for 2017, Schwartlander said.
In November, National Health and Family Planning Commission spokesman Mao Qun'an said a national law would be implemented by the end of the year, but it wasn't.
"A national law is urgently needed to help raise the overall awareness of tobacco control," said Jiang Yuan, deputy director of the Chinese Center for Disease Control and Prevention's tobacco control office.
In China, more than 1 million people die from smoking-related diseases each year, and a lack of intervention would likely see the figure increase to 3 million by 2050, the report said.