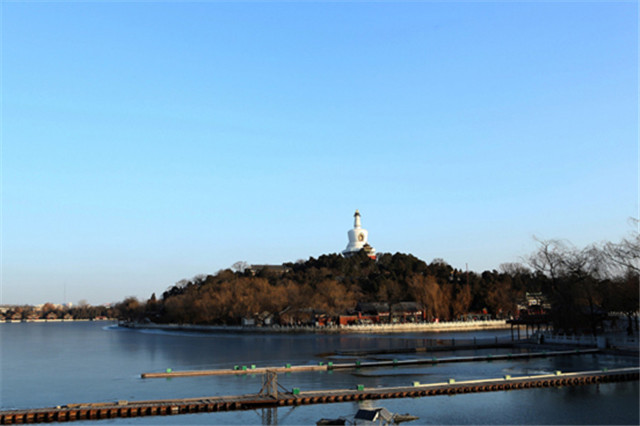 Beijing sees blue sky after days of smog. [Photo/IC]
After choking in haze for nearly a week, people in north China can now take a deep breath, at least until the smog returns.
The heavy smog that blanketed north China in the past week moved southward from Thursday morning thanks to a cold front, according to the National Meteorological Center. Residents in six provinces, including Henan and Hebei, Beijing and Tianjin, are expected to breathe clean air.
With smog dispersed, thick fog is set to envelop several provinces, including Hebei, Henan and Shandong, on Thursday morning.
Since Friday, vast regions in northern, central and eastern China have faced severe smog, dubbed the most serious since autumn in terms of area affected and severity.
The smog shrouded 1.88 million square kilometers, around one fifth of the country's territory, on Tuesday, and 90 cities reported heavy pollution that day, said the Ministry of Environmental Protection.
In Shijiazhuang, capital of Hebei province, the Air Quality Index remained at or above the hazardous upper limit of 500 for 63 hour as of 8 am Wednesday. The reading at one monitoring station in the city exceeded 1,000 at 1 pm Monday.
Emergency measures were implemented in response to the hazardous level of pollution. Industrial production and construction sites were suspended, cars were ordered to run on alternate days, and kindergartens and schools were suspended in smog-hit areas.
The haze also disrupted public transport, with expressways closed and flights canceled due to poor visibility.
Some steelmakers in Hebei province have been blamed for emitting massive amounts of pollutants and resuming the operation after inspection teams sent by the Ministry of Environmental Protection left. The MEP has urged local governments to punish these enterprises and carry out corrective measures.
Vehicle exhaust plays a major role in large cities' air pollution, said experts.
Xie Shaodong, an environmental professor at Peking University, told Beijing Morning Post that the reasons behind smog differ among regions. In large cities, such as Beijing and Shanghai, the exhaust of vehicles contribute the most to air pollution, while industrial production and energy sector also play important roles.
He Kebin, head of the School of Environment at Tsinghua University, said that the pollution level in Beijing has seen a drop over the last three years, with the average concentration of PM2.5, or particulate matter with a diameter of 2.5 microns, declining from 89.5 micrograms per cubic meters in 2013 to 69 micrograms per cubic meters so far this year.
The air quality is forecast to worsen again on Saturday, but conditions are set to improve on Monday, said the National Meteorological Center.